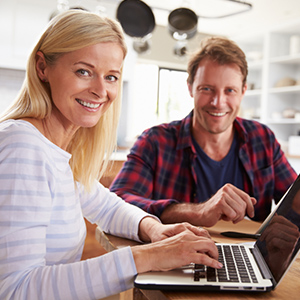 Turning opportunity lost into a home ownership dream
Robert and Sharon are typical of many thousands of busy professional couples across Australia – they simply didn't have the time to organise their home loan finance.
When we met Patrick, we were at our wit's end," said Robert. "Our lives are so jam-packed with work and family commitments, we simply could not work out how to find the time to research and secure finance."
I met Robert and Sharon through referral from a plant equipment finance broker, who needed someone he could trust to look after his valued clients. Robert and Sharon were seeking a new home in Geelong, but continually missing out on properties they loved due to lack of time to secure finance.
Mortgage brokers are now playing key roles in the financial success of time-poor professionals, due to flexible working hours and strong relationships built with a variety of lenders. A highly qualified, skilled mortgage broker is able to act on behalf of the client, negotiating and navigating through lending issues with ease.
Two main issues faced Robert and Sharon in their home loan search. Firstly, Robert is an in-demand, self-employed consultant, living in Geelong and working in Sydney four days a week, with Sharon working full-time as well. Trying to find and purchase a house without professional help was incredibly difficult.
In this scenario, the ability for a mortgage broker to act as a conduit between lenders and clients is a significant advantage. Preparation for auction is time-consuming and technical, as lenders require specific calculations around affordability. A mortgage broker can help secure a no cost or obligation pre-approval on a loan prior to purchasing a home, giving clients the peace of mind they need to confidently make a purchase.
Playing the auction game also requires a high level of commitment – and the assistance of a mortgage broker is invaluable here. If a property is missed, which is highly likely in such a high pressure sales method, prompt and accurate recalculations are required to quickly prepare for the next auction; recreating the finance scenario, assessing affordability and deposit amount and revisiting the client's budget and savings plan.
I was able to help this couple on many levels, liaising with the lender, taking care of complex calculations and advising what they could afford, but still maintain a comfortable lifestyle.
Secondly, as a self-employed professional, Robert required specialist assistance to negotiate finance. While self-employment is certainly not a barrier to home loan finance – one of the 'finance myths' I hear regularly – there are some specific requirements. The biggest myth is that most self-employed borrowers think they need a 20% deposit. However many lenders only need a 5% deposit, meaning you can realise your dream of home ownership much sooner.
As he had been self-employed for less than two years, Robert also needed to locate a lender able to accept a shorter financial history, as most financiers need a two-year financial history.
Mortgage brokers have unlimited access to a suite of lenders, so I was able to secure a quality financier with only 12 months' history. We were also able to secure a very competitive interest rate.
The days of traditional methods of home loan application are long gone. As a mortgage broker, I work in close partnership with accountants, financial planners, financial advisors and finance brokers, taking care of the run-around and delivering peace of mind for clients and referrers alike.
Key to the success of this relationship is trust – and a high quality service and work ethic. At a time when there are so many 'experts' in the home loan marketplace, referrals are not given lightly. A trusted relationship between the referrer and broker is highly prized.
The good news? We recently secured a fabulous property for Robert and Sharon in Geelong. I went down and signed them up personally and they were absolutely over the moon.
If you have busy, professional clients looking to purchase a property, Custom Financial can help. I will take your valued client through all the available options, get the ground work underway and manage the entire process, delivering total peace of mind. Why not get in touch?